Hello, I'm Dominic Herschel. I am here representing my mother, brothers, sisters and family to say a few words on behalf of my late father Izak (Jack) Herschel who lived with his parents and three brothers in the home above this bicycle store at Grotestraat 64-66 from year 1939 until year 1942.
First, a little context. My grandfather – Levie Herschel – came to Eibergen to marry Aaltje Maas in February 1909. Aaltje was the youngest of five children from a Jewish family in the village here. Levie was one of eight children in a Jewish family from Genemuiden in the province of Overijssel.
Levie and Aaltje first lived at Grotestraat 114 further along from here in this direction, where Levie established a butcher's shop. This business was known locally as the Wagemakers butchery. Levie and Aaltje lived above the shop and began a family comprising their sons Hartog, Abraham, Eleazer and my father Izak.
The family moved into this house at Grotestraat 64-66 on 30 October 1939. By this time Levie had closed his butchery and was now a cattle trader selling into the Amsterdam meat market.
In early October 1942, German soldiers came to this building, taking my grandparents and three of their sons prisoner. All five were transported to concentration camps, which they did not survive. Levie and Aaltje died within days of being taken prisoner. Last Monday, October 8, marked the 76th anniversary of their death.
Michiel van Thijn was also living in this house in October 1942. An antique dealer from Oosterbeek near Arnhem, Michiel married Karoline Maas, the oldest sister of my grandmother Aaltje Maas. After Karoline died in September 1940, Levie and Aaltje invited Michiel to stay in their home. The German soldiers took Michiel prisoner on that same day in October 1942 and he too perished on 8 October 1942.
My father Izak was not home when the soldiers arrived. About 10 days before, Izak's mother had arranged with Rector Kaerter for my father to hide in St Mattheüs Rectory in the Grotestraat near here. My father avoided capture by secretly living upstairs in the Rectory for nearly three years until the end of WW2, even when the German military established a communications post in a downstairs room.
In a memoir that my father published on his 90th birthday in 2011, he expressed fond memories of playing football with other young boys in the neighbourhood of Eibergen, first in the cobblestone lane leading to the Smeenk tannery and later in a field near the railway station.
If my father could be here today, he would be proud that his Dutch family is to be remembered by the laying of Stolpersteine here.
The Herschel family from Australia thanks all who contributed towards making today's event possible – with special thanks to the Stichting 'Ik vraag me af …'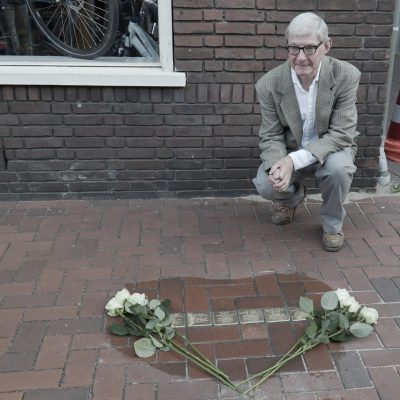 Door onze herdenking willen wij
LEVIE en AALTJE HERSCHEL-MAAS en hun zonen HARTOG, ABRAHAM SALOMON en  ELEAZER en hun zwager  MICHIEL van THIJN
die zo gewelddadig uit ons midden zijn weggerukt in ons midden terug brengen. 
We staan rondom deze Stolpersteine om de zielen die hier eens waren terug te laten keren in ons midden.
Vanaf nu zullen zij in ons midden zijn, daar waar zij waren voordat ze onder dwang werden weggevoerd en gedwongen werd de verschrikkelijke weg van leed te volgen.
We rouwen om hen en om het verlies dat wij door hun uitsluiting ervaren hebben en willen hen hiermee gedenken.